Crops Straw Dryer Overview

Crops Straw Dryer Working Principle

Lifting board structure is inside the drum, which can lift the biogas residues inside. Lifting board between the level of scattered layout has a certain angle with the cylinder axis, both so he took a continuous residues curtain, but also make the dry material continuously forward to the discharge end, the formation of continuous drying. Are made of thin stainless steel plates to seal between the drum front head and the back-end head and the drum, the lateral plates of stainless steel tension springs and rollers outside of the ring closed, this sealing method can be high temperature, no noise, no leakage gas, is a new type of seal.

Crops Straw Dryer Advantages

1. Widely application. It applies corn straw, rice straw and wheat straw etc.
2. Adjustable-heart type supporting wheel device is used, which means the mating wheels and rollers are always linear in contact, which greatly reduces wear and power loss.
3. The main drive of the drying drum adopts frequency conversion control to reduce the power consumption, and the drum speed can be adjusted and controlled precisely to meet the non-uniformity of moisture in the dry feed.
4. The system has a power outage protection system to prevent fire, explosion and other security hazards caused by power failure.
5. The measurement and control system can be equipped with computer operating platform and PLC control system to realize automatic monitoring of the whole system, with centralized and in-situ conversion function.
6. Simple operation. The operator in the control room according to the material and after drying the product material situation, at any time regulate the drying system operating parameters.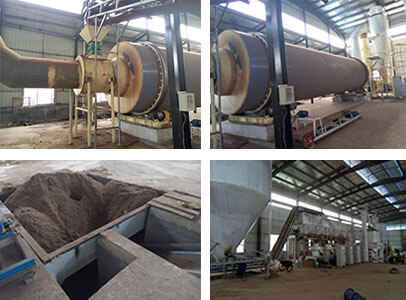 Product parameter
Model
DLJG1208
DLJG1408
DLJG1610
DLJG2010/3
DLJG2210/3
DLJG2510/3
DLJG2512/3
DLJG2912/3
Input Capacity(t/d)
43.7
52.5
75.8
169
186.5
215.5
262.2
317.6
Output Capacity(t/d)
25.7
30.9
44.6
99.4
109.7
126.7
154.2
186.8
Vaporization(t/h)
0.75
0.9
1.3
2.9
3.2
3.7
4.5
5.45
Early moisture(%)
35-50%
Final moisture(%)
12-15%(adjustable)
Drying temperature
350-650℃
Total motor power(kw)
32
40
55
95
100
125
145
165
Total weight(kg)
15000
17000
21500
26500
28500
37000
41000
45500
Plant area(m)
5m*14m
5m*14m
6m*16m
8m*16m
8m*16m
10m*16m
10m*18m
10m*20m
Except above models, we also can supply special model according to your requirements.